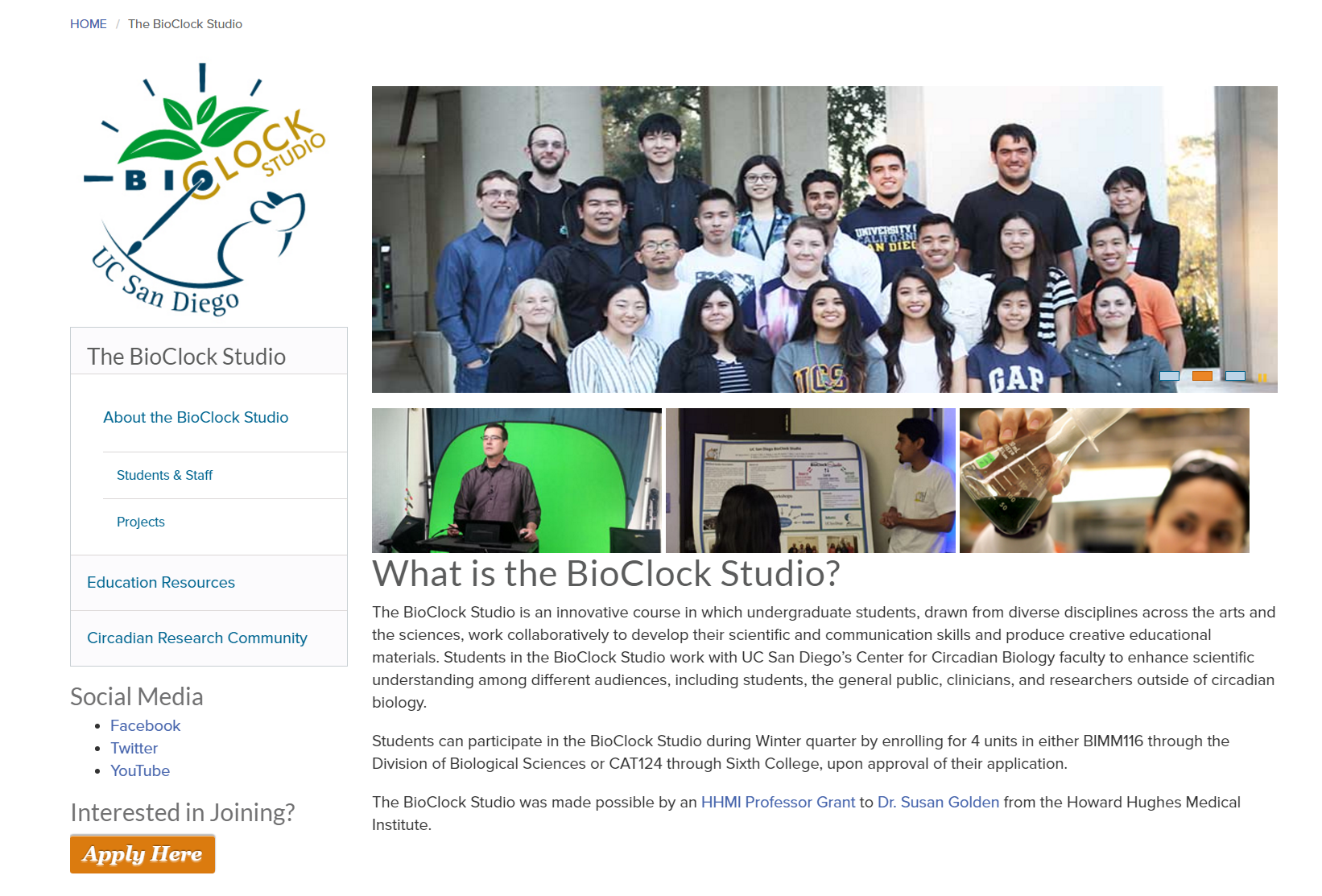 UC San Diego BioClocks Studio
Author: Susan Cohen, PhD, Postdoctoral Fellow in the Golden lab and junior instructor for the BioClock Studio
Chronobiology? Circadian rhythms? Biological clocks?
What is that? Why do people study it? Did you know that UC San Diego teaches a 300-student undergraduate course on it?
Despite the importance of circadian rhythms to our health and well-being, most people know very little about circadian rhythms, and most biology courses only mention them briefly. As a result, even many biologists are completely unaware of the research community that studies these daily biological clocks. UC San Diego, however, has an active circadian biology research community with several world-renowned labs. Undergraduate students can take advantage of this hub of circadian biology in a course dedicated to biological clocks in their many forms across the tree of life.  "Circadian Rhythms-Biological Clocks", taught by professors Susan Golden (Molecular Biology) and Michael Gorman (Psychology), enrolls over 300 undergraduate students every year and has taught over 2000 students since the course's establishment 10 years ago!
However, there is no one textbook that fits the syllabus. Moreover, most reading material on circadian rhythms are written by experts, for experts, and thus assume a higher level of background knowledge and go into more detail than is fitting for an undergraduate course. Professor Susan Golden, who also serves as the director for the Center for Circadian Biology at UC San Diego, had the idea that students could collaborate to create educational media to communicate circadian biology to a wider audience. She won a prestigious Howard Hughes Medical Institute Professor award to develop this idea into a course call the BioClock Studio.
Now after two years, the BioClock studio has enrolled a total of 25 students with majors across the arts and sciences (biology, literature, communication, and computing & arts to name a few). Students in the BioClock Studio work in small groups each led by an instructor to create a wide variety of material. Projects range from videos on "How to" conduct, collect and interpret data from a circadian experiment such as a mouse wheel-running experiment; interviews with prominent circadian researchers; animations detailing the mechanisms that drive circadian rhythms; tutorials on the use of reporters in circadian biology, 2-process model of sleep; and an interactive website with an introduction to circadian biology, with relevant hyperlinks to specific circadian terms and prominent scientists.  These projects are currently being used as educational materials to enhance a learning experience of the 300-student course on circadian rhythms at UC San Diego, as well as being made available to the public to promote widespread awareness of the importance of circadian rhythms in daily life, work, and health. Check us out at our website or our YouTube channel!